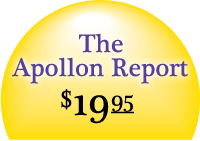 is 25 pages of useful, current, and dynamic material exploring the social, economic, and planetary trends for the coming years. It offers insights into the coming years to help you with your business plan and your life direction.

Three different perspectives from three dynamic astrologers are included in this innovative report to help you in your personal and, particularly, in your professional life.

Maximize your personal, professional, financial, and spiritual potential by getting ahead of the trend.

Discover the effects of:
Jupiter & Pluto moving into the Galactic Center at the tail end of Sagittarius and then into Capricorn
Saturn in Virgo 9/3/07 – 10/30/09
Saturn Opposite Uranus starting November, 2008
Neptune in Aquarius and its mutual reception with Uranus in Pisces
And more...
The Apollon Report is a valuable tool offering information for success in your life and business. Add to your bottom line for a small cost.
Click here for a preview, or buy the full Report using the links below!
Download The Apollon Report in easy-to-read pdf format for only $19.95.
Get a Hard Copy of The Apollon Report mailed right to your door for $24.95 + $6.00 S/H.
Or, print our order form and fax in your order today!